The Fire Mountain Staff
Administration

Aaron Huey, Co-Founder, and President
Aaron has been working with children, teens, and parents for over 18 years. After ten years directing camps and empowerment programs around the world, Aaron opened Fire Mountain because he wanted to work with kids and families on a deeper level. Over the first few years of running programs like Teen Rites of Passage The Warrior Phoenix Challenge, and numerous cries for help from parents, Aaron realized the need to turn his efforts towards teens struggling with drugs, alcohol and the behaviors and issues related to addiction. An addict in recovery since 2000, he felt a calling to put together an expert team and open Fire Mountain. His mission is to awaken confidence and leadership. "It's not about being better, it's about giving up the struggle to be different from who you are."
Aaron's formal educational background is in acting. He graduated from the top acting school in the US, The American Academy of Dramatic Arts in 1990. His skills in comedy and drama make him an influential speaker and presenter, and a favorite among the kids. His confidence, compassion, and humor set the tone for deep healing, and fun.
Aaron is also trained as an EMT, a Wilderness Survival Instructor and Martial Arts teacher, all of which he weaves into the Fire Mountain RTC curriculum.
Shari Simmons, LCSW, Executive Director

Shari received her Master's degree in Social Work from the University of Denver in 1993 and became a licensed clinical Social Worker in 1995.  She has had a 28-year career as an adolescent therapist and Clinical Director at several residential facilities in Colorado.  As the Clinical Director at Mountain Crest Psychiatric Hospital in Fort Collins, Shari ran the adolescent facility for 10 years and started a teen homeless shelter.
Most recently, she has been a consultant for various treatment programs in the state where she trains staff on trauma-informed care, develops strategic goals and provides tools to enhance programming.  She is currently an Adjunct Professor at CCU and UNR.  Her area of expertise is in mental health and trauma and she considers it a personal mission to train anyone who will listen to these topics so that people who suffer are met with compassion and understanding. She is currently writing a book on trauma for clinicians.  When not working, she is hiking, biking, canoeing or traveling.
Medical Team
---

Dr. Nancy Brown MD
Nancy is the Founder of Integrative Family Medicine in Boulder Colorado. She is a family doctor and received her medical degree from Harvard Medical School. She has been practicing medicine for over 25 years and currently specializes in Integrative Medicine and nutritional counseling to support optimal health.
---

Dr. Mary Braud, Psychiatrist
Dr. Mary Braud graduated from Louisiana State University Medical Center in 1989. She went on to complete the residency program in pediatrics at Oregon Health Sciences University. She joined the Greeley Medical Clinic and worked there as a pediatrician from 1992 until 1994 when she decided to pursue further training in psychiatry. She did the adult psychiatry portion of her studies at the Menninger Clinic in Topeka, KS. She completed the two-year fellowship in child and adolescent psychiatry at the University of Colorado Health Sciences Center in Denver, Colorado. She was the chief resident for the second year of that program.
Dr. Braud worked at The Children's Hospital in Denver, Colorado for one year after completing her training. She then worked at Jefferson Center for Mental Health in Jefferson County, Colorado for 5 years before starting her private practice in 2005.
Dr. Braud has extensively studied alternative medicine. She has done programs with the Center for Mind-Body Medicine, the Autism Research Institute and the Institute for Functional Medicine. She completed the certification program offered by IFM in 2014. Thus, she is able to combine her knowledge of conventional psychiatric treatment with an approach that aims to address underlying causes of mental illness.
---
 Clinical Team
---

Beatrice Morreale, Family Therapist
Beatrice Morreale has a masters of social work (MSW) from Colorado State University. Bea's clinical work is based on the humanistic approach, emphasizing the well being of the whole person with a special focus on promoting the well being of the family. She specializes in family therapy and has worked with adolescents and families struggling with life transitions, mental health issues, communication and trust issues, and identity issues.
Outside of work, she enjoys being in the outdoors and takes every chance she can get to go snowboarding, rafting, hiking, or climbing in the beautiful Colorado mountains.
---

Erica Zimmerman, LSW, Clinical Therapist
Erica received her masters in social work from the University of Denver where she concentrated in family systems and obtained a certificate in Animal-Assisted Social Work. She is currently a licensed social worker and working toward a clinical social work license. Erica's clinical work is based on the attachment theory – focusing on healthy relationships and creating a secure base.
Additionally, Erica has a passion for equine assisted activities and believes the bonds created with an animal can prepare us for human connections.Erica grew up riding horses in the hunter-jumper circuit and rode at the national level for Indiana University's Equestrian Team. She is a Professional Association of Therapeutic Horsemanship International (PATH Intl.) certified Therapeutic Riding Instructor (TRI) and PATH Intl. Equine Specialist in Mental Health and Learning. Erica has experience working in therapeutic riding barns here in Colorado as well as in Israel. Erica is currently working toward her Advanced TRI certificate.
In her spare time, Erica enjoying horseback riding, hiking, camping, and skiing. She tries her best to take advantage of the wonderful Colorado scenery!
---

Justin Sanderson LPC, Therapist
Justin, a native Texan, completed his undergraduate studies at the University of Missouri earning Bachelor of Arts degrees in Psychology and English. He continued his education receiving his Master of Arts in Counseling at Webster University, in St. Louis. During his time in St. Louis, he acquired experience working in different areas such as suicide hotline, domestic abuse counseling, children's bereavement and private practice.
While working at Annie's Hope-The Bereavement Center for Kids as the School Support and Education Coordinator, Justin pursued a further education with the Association of Death Education and Counseling where he became Certified in Thanatology: Death, Dying and Bereavement. In 2015 he was recognized as a National Certified Counselor, by the National Board of Certified Counselors.
During Justin's free time he loves to go explore both the city atmosphere and the Rocky Mountains with his wife. Although he is not from Colorado he is a lifelong Denver Broncos fan.

Amy Pillard NCC, Therapist
Amy Pilliard, a native of St. Louis, Missouri, gained her B.A. in Psychology from the University of  Missouri – St. Louis, with an emphasis in trauma and sexual assault. Amy obtained her masters of clinical counseling from Webster University in St. Louis.  Amy's approach is humanistic and centers around the holistic treatment of the mind, body and spirit. Amy's professional experience includes 10 years of working in the field of trauma and intimate partner violence. In addition, Amy has done extensive research and is a passionate advocate for educating youth and adults regarding the LGBTQ community and trauma.  In her spare time, Amy and her wife enjoy cooking, hiking, running and exploring all that Colorado's wilderness has to offer!
---
Kelsie McGuire LPCC, Therapist
Originally from Texas, Kelsie has completed her undergraduate degree at Harding University earning degrees in psychology and leadership in ministry. She went on to receive a graduate degree in Counseling at Colorado Christian University. Kelsie is trained in EMDR and is a MINT certified Motivational Interviewing trainer. She has experience working with homeless populations, individuals with addictions, victims of domestic violence, and inner-city youth.
Kelsie is passionate about helping people realize the potential they hold within themselves to heal. She holds the belief that when an individual's values and actions align, they will experience a full life. Kelsie's hobbies include exploring new coffee shops, backpacking, off-roading, running, playing soccer, and reading.
Education Team
---

Makenzie McRoberts, Instructional Services Coordinator
Makenzie is a recent graduate of California Polytechnic State University in San Luis Obispo, CA. She earned her bachelors degree in Psychology, with a special focus and interest specifically on animal-assisted therapy. Although she was born and raised in California, the mountains have always held her heart, and she permanently resides in Colorado now.
Outside of work, Makenzie can usually be found hanging out with her two horses, or spending as much time in the National Park as possible, hiking, riding, or just enjoying the amazing Rocky Mountains.
---

Katia Nikitna, Instructor
Katia Nikitina was born in Moscow, Russia. Once she moved to the United States she began exploring her interest in art using chalk and oil pastels as well as acrylic paint. Katia discovered oil paints at Fort Lewis College, which she fell in love with.
Throughout her time in college, she actively participated in Creative Collective, the Fort Lewis Art Club in Durango, Colorado. She served one year as secretary and her final year as president, in which she organized meetings, curated art shows, as well as planned and executed weekend trips.
She has recently graduated from Fort Lewis College with a degree in Art and Psychology. Katia began working at Fire Mountain in June 2016 and is currently a mental health technician and art instructor.
---

Linda London-Hanak, Instructor
Linda comes to Fire Mountain from a career in Southern California. She has been practicing Hatha Yoga since the 1960s. Throughout a career practicing various flow yoga styles, Linda has gained a deep understanding of the mental and physical health benefits of a regular yoga routine. She began teaching yoga in Estes Park in 2009. Linda enjoys working with both clients and staff at Fire Mountain in developing healthy lifestyles and positive thinking.
---
Chazz Glaze, Instructor
Chazz is a graduate of Purdue University, where she obtained her bachelor's in English education and creative writing. Always passionate about the mind–body–spirit connection, she later pursued a certificate in plant-based nutrition from Cornell as well as personal training, yoga, and other fitness instructor certifications through the National Council for Certified Personal Trainers. Working in community health education, she has found a way to lead others in their journeys toward wellness by teaching them tools she herself has used for mental wellness, including writing, dance, nutrition, and mindfulness techniques.
                                                                                                                                           

Alex Parmelee, Instructor
Alex is an independent educator, author and public speaker with a special interest in the philosophy of consciousness, the science of addictions recovery and the development of movement therapies.  He says "I love that moment when the student makes a connection between their life right now and something new.  It's like I'm lighting a candle!" and "I want to give my best effort to being an instructor at Fire Mountain where I can contribute most to helping young people thrive within their collective experience here".  Alex wants to share most of what he has learned about strategies for living a full and meaningful life while drawing from his over twenty year Paramedic career, eleven years service in the US Army, a bachelor degree in psychology and a doctorate in medicine as well as being a parent and himself a previously "troubled teen".  Alex has recently returned to the EP area where he also works at the Harmony Foundation, volunteers at the EP Observatory is a firefighter training officer and board member with the Glen Haven Fire Department and is a certified Yoga instructor at EP Yoga Studio.
Rebecca Hartt, Instructor
Born and raised in Boulder, Colorado Rebecca Hartt is a leader in her community and Natural Highs, representative. Rebecca grew up in a biracial, under-resourced family system lacking in healthy relationships. By the age of 14, she was struggling with substance use, self-hatred, and finding ways to relate to her family in positive ways. As a freshman in highs school, she was introduced to the community, Natural Highs. After finding her voice within the community, she began representing Natural Highs and the concepts of self-love, emotional intelligence, and the sense of embodiment in the world. By the age of 16, Rebecca participated in an international Rite of Passage program led by the organization, Golden Bridge, which focused on helping others expand their sense of self in the world.
---
Kitchen Team

Linn Green, Cook
Linn is a retired landscape architect.  After retiring, she chose to go to culinary school as a second career. She uses both skills here at Fire Mountain.  When she isn't cooking for the residents and staff, she is teaching gardening and culinary skills.

Susie Paglia, Cook
Susie has lived in Estes Park for 27 years. She is married and has 3 grown children and 6 grandchildren.
An avid swimmer, Susie has coached swim teams for several years. For the last 16 years, she and her husband owned and operated a local restaurant in Estes Park. They sold the restaurant in 2015, which allowed her the opportunity to Fire Mountain's team. Always naturally social, Susie loves spending time with family and friends. Summer is her favorite time of year, affording her the opportunity to garden and explore the surrounding National Forests with her three dogs.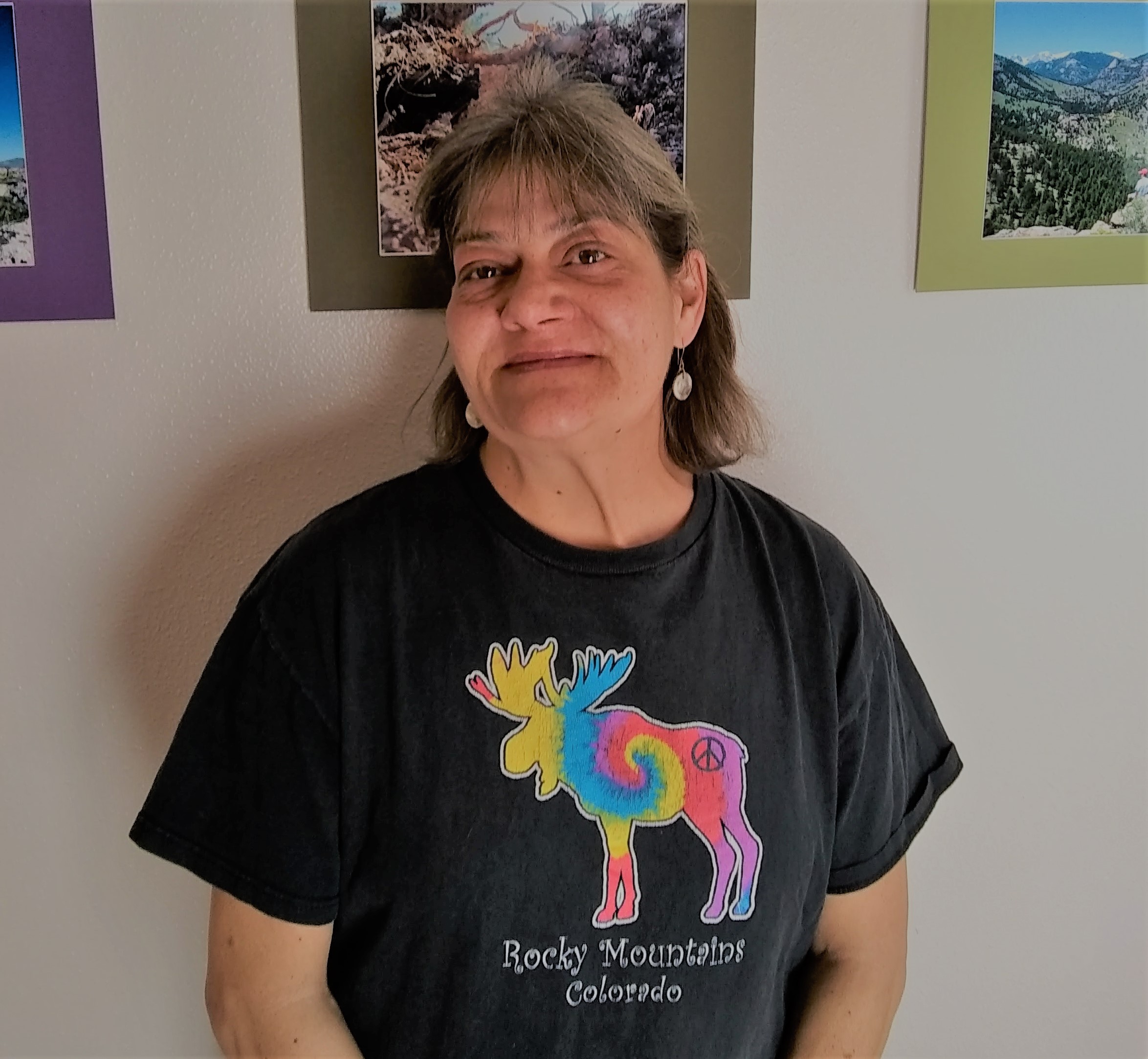 Tracey Neff, Cook
Tracey comes to Colorado after living for 27 years in Minnesota, where she obtained a degree in forestry. She is a proud mother of one daughter. In her spare time, Tracey enjoys traveling, cross-country skiing, gardening, botany, and exploring the outdoors. One of her goals when at Fire Mountain is to pass along her joy of plants and the outdoors to others. In the past, Tracey owned her own herb growing and sales business. She utilizes this experience with Fire Mountain's own indoor herb garden.
---
Administrative Team

Jill Lampshire, Admissions Coordinator
Jill obtained her Master's degree at the University of Louisiana at Monroe in Psychology, specializing in Psychometrics. She started her career in the mental health field as an Intake Coordinator at a substance abuse facility in Louisiana. After obtaining her Master's degree, she was employed as a psychometrist, administering and interpreting intellectual testing for a private practice. She has worked extensively with children, adolescents, and adults with mood, personality, and substance abuse disorders as well as those with learning and intellectual disorders and disabilities.
In Jill's free time, she enjoys tennis, hiking, yoga, and meditation.
---

Jason Maitland, Human Resources Coordinator
Jason started working with teens from the inner-city areas of Los Angeles and Sacramento. A native of the Chicago area, Jason quickly realized that he wanted to achieve a higher purpose than the regular nine to five had to offer. After working in the Rocky Mountains for a few years, he decided to call them home. Jason's focus is to support the staff of Fire Mountain in every way possible. The heart of our organization is it's team, and he is dedicated to helping to build up the best.

Kelli Johnstone, Administrative Assistant
Kelli was raised in the mountains of central Pennsylvania, where she earned her B.A. in Psychology from Penn State University. In 2016, she moved to Colorado to expand her horizons, test her limits, and utilize her degree. She began her journey with Fire Mountain as a mental health technician, working hands-on with our teens. After a year of direct involvement with Fire Mountain's clients, Kelli assumed the responsibility of the office. Give us a call and meet Kelli for yourself!
When not pursuing her passion for helping teens and growing her resume, she can usually be found camping in the Rockies, dancing to live music, or exploring many of Colorado's natural resources.
---

Megan Lewis, Medication Manager
Meg Lewis received her Bachelor's degree in Biology with a Zoology concentration from California State University Stanislaus in 2012 and has been working both with teenagers and animals ever since. Working at Fire Mountain, Meg has found a way to blend both her love for science and animals into one job; working alongside Fire Mountain physicians and training therapy dogs. In her free time, she works as a horse wrangler and dog trainer and loves spending as much time in the mountains as possible.
Amy Bonner, Administrative Assistant
Amy, a native of Colorado, grew up exploring the Rocky Mountain Front Range. A self-described, "Super-Fan" of the Colorado Eagles (a local hockey team), Amy never misses a game. When not watching hockey, Amy enjoys going to concerts, traveling, trying new things, and meeting new people. She is currently attending Front Range Community College where she studies microbiology.
Direct Care Staff